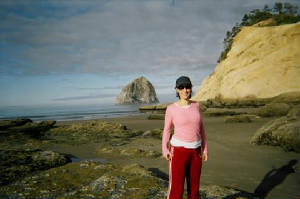 Damn. It ain't much, but
it's something.
I think I may have seen you,
but I was running.
Always hard to see
when slowing down isn't an option.
It ain't much,
I hold on to a little bit of nothing.
Grooving to
dancing
moving
to some beat of
beat of
beat down frenzy of friendship.
Yes, he will
whisper in my ear
yes
yes baby
that's it
then he will ask permission to turn up the lights
come back to life
this
it ain't much
but it's enough to hold me
in arms whenever they will have me.
Arms with fingers
that run up and down and
time sensitive shivers.
words
that will speak to me
ears that will receive me
when my lips gently kiss
and make breeze
Damn.
It ain't much
but I'll take it
yes,
yes baby
that's right
it's tonight
tonight you can have me
tonight you can forgive me
a little bit of something small
so we can make believe
that we're heading towards big things.
I would
feel it
if hands found the small of my back
all night
it seems within my sight
sometimes
yes
yes baby
that's right
His lips in bitter desperation
kiss to make it stop
I'll help
to make it stop
because I need him too
to dissolve in my skin
so later when
the dark becomes
too dark
I can remember.
Damn.
It ain't much.
But it's something.


No more then a little.
One step
a step is all.
I once saw the sun through a bare tree
shine on a man
who had no place to go
he stepped
on dirt
and pressed a seed
accidentally
and it began to grow
into something plush
and free.
One step.
It only took a little.


there
black again -
Night
finds me this place-
once more
"where were you"
I am asked -
"why are you here now?"
"where did you come from?"
I am your catalyst
head starts
to shake in protest
but I speak
faster
then you can disagree
I am the catalyst.
I am change.
I am breeze.
And I begin to
weep.
these
are not my winds of difference
this is
my
wall -
this is my
Fall.
My broken breath blows through
every second
another chance to moan
another chance
to wish
that I could feel
those that feel
me.
I exist here
in reality.
I am the catalyst.
I am change.
I am breeze.
I am temporary, there is no
fear of me-
I am reason;
words flow faster
for you
then my
Peace.
I am logic.
Into the heart's place where most can't
see
I do.
I explain it to you
"where have you been? Why are you here now?"
I have been here
in the trees
floating in circles
only cherishing arms unable to return the embrace
I am this place
and that
loves lost grasp
loves lost chance
I am the catalyst
change
breeze
temporary
I moan in desperate pleasure
and weep in pain
the only hand I hold.
The voice of reason
the social conscience
girl of opportunity
music
state of the nation
seasons and mitosis
"where were you...why now?
with you, it's simple to just be - with you."
and now
you know
fall with the leaves
and let the wind carry them away
I am here
the catalyst
change
breeze.
Temporary.